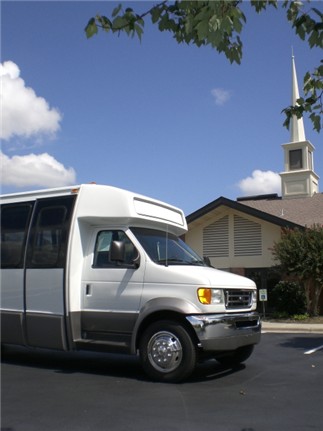 New and Used Church Buses for Sale,
The Guide
When looking for New and Used church buses for sale, it is important to consider many things, including finding a church bus dealer that will help find the right bus for your church's requirements. Look for church buses for sale online, as well as locally. When doing so, you will be able to make a well informed decision by comparing the many church bus sales companies that advertise there and will sell and deliver to your area.
Church Passenger Vans
Sales for mini to midsize church buses have grown steadily over the past few years. The determination by the National Transportation Safety Board that the 15 passenger van is dangerous due to it's tendency to roll over during reflex traffic maneuvers or tire blow outs was part of the reason for the increase in bus sales.
After the 15 passenger van was declared dangerous, the insurance industry stepped in and either canceled or raised their rates on van policies. Thus, the mini to midsize bus became very popular among churches looking for church buses for sale. Because of the lower center of gravity there is less likelihood of a rollover, making it the safer vehicle. See our Church Bus Sales vs. Passenger Van video page.
Church Bus Dealer
When looking for a safe church bus for sale, there are many important issues to consider. To begin, find a bus dealer that has reputation and experience for working with a multitude of churches, has favorable references and has knowledge of the special needs of church bus transportation. There are many church bus dealers offering church buses for sale, but it's important to find the one that will understand your bus requirements.
Spend Wisely on Church Buses
One of the most important questions the church should consider is how to spend its member's money in a highly efficient way. Should you buy a new bus or a used bus? Most churches put less than 5,000 miles on a bus per year. The expected life of a late model (1998 up) bus engine is up to 500,000 miles. Why spend $50-100,000. or more on a new bus when it loses 1/3rd of its value in the first year, regardless of the mileage? You can purchase a pre owned refurbished used bus for half the cost of a new bus, and it normally will last the church a lifetime. On the other hand, if you will be driving your church bus more than 15,000 miles per year, a new bus is for you.
Refurbished Used Church Buses for Sale
Beware that some bus dealers will label a bus for sale as refurbished after only painting the exterior and changing the seats. That is only a fraction of what should be done. Buses for sale that are refurbished should go through a thorough inspection with over 250 parts that are inspected. Then, either repair or replace items that don't pass inspection. Some parts like alternators, starters, water pumps, power steering pumps, pulley bearings, brake calipers and pads, steering stabilizers, should be replaced automatically so that you know they will last. Other parts like ball joints, wheel covers, and tires should be replace 95 percent of the time. Only if they are almost new, should they be left alone. A refurbished bus should also be painted so that there will be no overlooked blemishes. When you see a refurbished used bus for sale, you may ask, "where are the used buses?" thinking that the refurbished used buses for sale are new. A refurbished church bus may be a little more expensive, but in the long run, the wiser choice.

On the other hand, if your church will be driving the bus over 20,000 miles per year, maybe a new church bus is the best answer for you. Try to use dealers that show you standard and option pricing sheets on each different model. Some bus dealers will lists these online so that it will be convenient to compare models.
Church Bus Maintenance
The maintenance that a church bus for sale will need is critical. Most used church bus dealers offer no warranty, find a dealer that offers warranties on their used church buses. Also, inquire if the church bus dealer will service the church bus after the sale. If the dealer has no service center how could he have knowledge of your bus? Of course, you will feel more confident with refurbished used church buses for sale. If a used church bus for sale is not refurbished, you will only be guessing what the condition will be. Confidence and reliability will be a key factor with your congregation.

.

If you have any questions about New and Used Church Buses for Sale call us at 910-272-0177.
Copyright © 2009. ChurchBuses.biz, All Rights Reserved

New and Used Church Buses For Sale