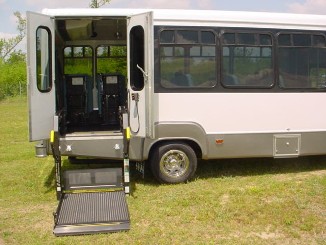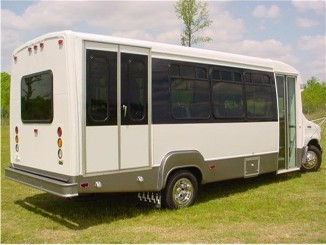 Handicap Church Bus Sales

One of the many things to consider about Handicap church bus sales is the needs of your passengers. We must remember to include all of the bus passengers, including the handicapped that would need a handicap bus or ADA compliant bus. This is especially true if you are searching for a Paratransit bus for the assisted living. Assist rails and low steps, wide center aisle, comfortable seats, and wheelchair lifts are many of the items needed by the elderly, disabled, or assisted living. For people who are wheelchair bound a wheelchair lift bus would be appropriate. Handicap buses equipped with wheelchair lifts also have special anchoring devices in the floor and walls to secure the wheelchair in place once the wheelchair is lifted into the bus. A Handicap Bus, or Paratransit Bus will allow you to use your bus to include those who might otherwise be left at home.
Disabled Members will Rejoice
Churches may use a handicap bus to provide transportation to those members who may be staying at home because they have no other way to come to church services or special church events. Often the elderly or disabled stop participating in church activities because a safe reliable handicap bus is not available to them.
Americans with Disabilities Act and Paratransit
Before passage of the American with Disabilities Act of 1990 ( ADA ), paratransit was provided by not for profit human service agencies and public transit agencies in response to the requirements of the US Rehabilitation Act of 1972. With the passage of the ADA in 1990, all US transit providers are now required to provide "complimentary" paratransit to destinations within 3/4 of a mile of all fixed routes and are also required to have handicap accessible buses. Although this is a great law and service, many of our handicap citizens find it awkward and uncomfortable riding with strangers and limit their outings. A church with wheelchair lift equipped buses will be a great asset to any member who would like to get out more often in the company of friends and fellow worshipers.
.

If you have any questions about Handicap Church Bus Sales call us at 910-272-0177.
Copyright © 2009. ChurchBuses.biz, All Rights Reserved
Handicap Buses for Sale
Handicap Church Bus Sales